Activator
On first glance it sounds like good news that Activator has come to the official iOS App Store. Unfortunately, this app is fake and will not give your iPhone the functionality that the jailbreak version provides. Information for Activator in iTunes states, "Download now before the price goes up!"
More like download now before Apple pulls our scam app. The developers are charging $0.99 and showing ripped off screenshots of the real Activator package from Cydia developed by Ryan Petrich. When it comes to what the app actually does, it's nothing like advertised.
Thanks to MultiCleaner iPhone users no longer have to manually quit each application running in the iOS multitasking dock to free up RAM and improve performance. Not only does the $0.99 jailbreak tweak make it possible to set up custom Activator triggers to quit all apps, it offers customization for multitasking dock behavior.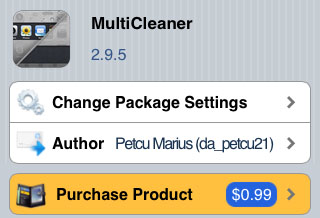 Apps can be pinned to the left side of the multitasking bar for quick access, and app icons can be rearranged within the multitasking bar. When apps are not running but have been recently opened, the icon appears darkened, while actively running background apps are normally displayed.