iPad 4
Update #3: From iLounge:
"Although iLounge contacted Walmart before posting this story to confirm that the $399 pricing did, in fact, apply to the fourth-generation iPad - and received unambiguous written confirmation of that detail from a spokesperson - the company has now retracted the claim, suggesting that the $399 price applies solely to the third-generation iPad."
However, we have received emails claiming some Walmarts are not even honoring the sale price for the iPad 3.

Update #2: There seems to be some confusion as to what iPad is on sale. According to a Walmart rep, the deal is "the iPad 3 at the iPad 2 price". User comments on iLounge also say the deal is for the iPad 3.
"I just called my local Walmart and they said the $399 pricing is for the 16GB iPad 3rd generation, not the Retina display."
Update: Quick correction. Walmart is reducing the price of the iPad 3, not the fourth-generation iPad like we originally stated.
Apple has released iOS 6.0.1 for all iOS devices including the 4th generation iPad and iPad mini. iPhone 5 owners will need to download an app called "iOS Updater" to access the over the air update. iOS 6.0.1 fixes a bug that prevents the iPhone 5 from installing wireless updates. To download the Updater go to Settings >> General >> Software Update, and tap "Learn More" on the "Updater for iPhone 5" page to access the download screen.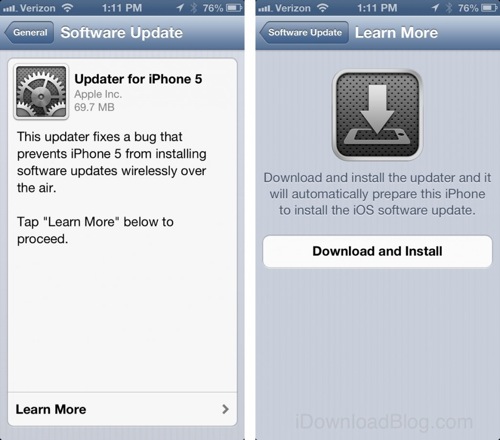 Here's the complete changelog for iOS 6.0.1. You'll notice it's mostly a maintenance release.
-Fixes a bug that prevents iPhone 5 from installing software updates wirelessly over the air
-Fixes a bug where horizontal lines may be displayed across the keyboard
-Fixes an issue that could cause camera flash to not go off
-Improves reliability of iPhone 5 and iPod touch (5th generation) when connected to encrypted WPA2 Wi-Fi networks
-Resolves an issue that prevents iPhone from using the cellular network in some instances
-Consolidated the Use Cellular Data switch for iTunes Match
-Fixes a Passcode Lock bug which sometimes allowed access to Passbook pass details from lock screen
-Fixes a bug affecting Exchange meetings