Call of Duty: Strike Team Blasts Its Way Exclusively Onto iOS Devices
Set in the year 2020, Activision Publishing's Call of Duty: Strike Team is the latest chapter in the company's successful first-person shooter franchise. Developed exclusively for iOS devices, the game centers on a Joint Special Operations team tasked with tracking down an "unknown enemy" responsible for a surprise attack on the United States.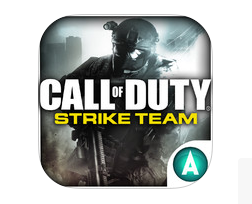 Developed by mobile game division Blast Furnace, players command a team of up to four customizable operatives with the ability to switch between first- and third-person viewpoints at will. Featuring both a story-driven, cinematic Campaign mode, a single-player Survival mode, and a multi-player Leaderboard competition, Call of Duty: Strike Team offers mobile customers variation in their gaming experience.
Reviews have been generally favorable, with the few criticisms aimed mostly at the story line and lack of actual multi-player combat. The Leaderboard mode is reportedly just a comparison of scores and not a mano a mano battle like one finds on its console counterparts. What most critics agree on is the added layer of depth the top-down third-person option brings to the action and the way this increases the strategy elements.
At $6.99, Call of Duty: Strike Team runs on the higher end of app prices, but fans of the series should find the investment well worth it. It just might be the perfect thing to kill time while waiting in line for the iPhone 5S or iPhone 5C.
Call of Duty: Strike Team requires iOS 6 or later and can be purchased at the Apple App Store.