Submitted by Bob Bhatnagar on
Amazon has launched its Electronics Trade-In Store and used iPhones are highlighted with special deals already taking place. Currently a 16 GB iPhone 3GS in black or white is fetching $235 in like new condition. The process is simple, with free shipping on your used items and the gift card amount deposited directly into your Amazon account.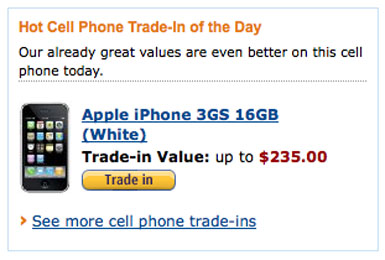 Now that electronics are on the list of trade-in items at Amazon, other Apple products are showing up in the eligible device list. An original iPhone (2G) can be traded in for up to $86 and specific iPod classic, nano and touch models are all on the list.
Amazon's Electronics Trade-In program is still in its Beta phase as the company continues to test the service and add features. If you're interested in getting some cash for your old iPhone, the criteria for cell phone trade-in pricing at Amazon is as follows:
Like New Condition
- Item is in perfect working condition
- The original manufacturer packaging and all original accessories are intact
- There is no visible wear or personalization
- Suitable for presenting as a gift
Good Condition
- Item shows wear from normal use
- Item remains in good condition with working buttons, scroll wheel, and audio
- Item has a flawless display (i.e. no dead spots or scratches)
- Item may have light scratches on the body
- Item includes battery, charging adapter, and USB cable
Acceptable Condition
- Item is fairly worn from consistent use
- Item remains in working condition
- The signs of wear can include scratches or dents in the case
- Item is functional with working buttons, scroll wheel, and audio
- Item has a working display (may have minor scratches)
- Item may have been personalized (marked, engraved, or identified)
- Item may be missing one or all of the following: charging adapter, USB cable
Not Acceptable (Don't bother sending it in)
- Water damaged
- Severely damaged/unusable
- Does not power on (even after charging)
If you don't see you specific model listed, then Amazon isn't currently taking the device for trade-in. They are continually updating the program with new devices. Just remember when you submit your iPhone for trade-in you must ship the device within 7 days. Amazon will drop the cash into your account within 2 business days after the iPhone is checked out.