Submitted by Anders Batten on
The folks behind cash4iPhones.com and cash4BlackBerrys.com have launched a new, comprehensive site called HelloTotem.com that promises to pay you top dollar for your old, unwanted iPhone. HelloTotem wants to send you cash for that iPhone that's been collecting dust on your desk since you upgraded. HelloTotem is currently offering payment, often issued the same day your device lands at HelloTotem, for many different models of outdated smartphones including devices from Apple, Sony Ericsson, Motorola, HTC, Nokia, LG and BlackBerry. Every model of iPhone Apple has produced, save first generation iPhones, are exchangeable for what HelloTotem promises are the most competitive prices in the industry. HelloTotem also has plans to start offering cash for tablet devices, such as the iPad, in the near future.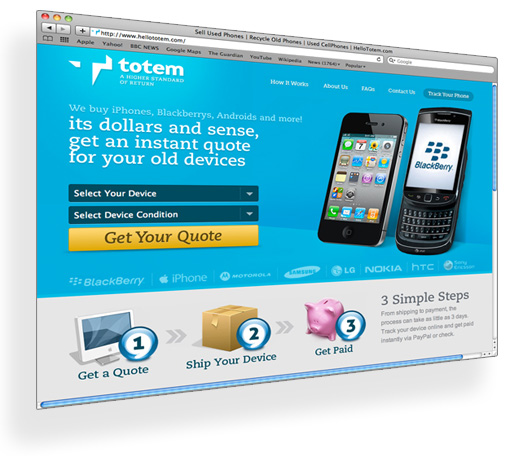 The process is incredibly straightforward. Simply visit HelloTotem.com and enter your device and it's condition right on the homepage. You'll get an instant quote, a quote which Totem indicates is reliable 98% of the time. The other 2%, when quotes change, are typically from customers drastically overstating the condition of their device. According to Nicholas Fiorentino, Totem's CEO, in some cases customers understate the condition of their device and actually receive payment that exceeds their quoted offer. Once you accept Totem's quote, you'll receive a postage pre-paid mailer that you simply put your device in and ship back to Totem. Once Totem receives and processes the device, they issue payment.