Submitted by Frank Macey on
Finding your USB cable and plugging in the iPhone to a computer to sync can be a hassle. iOS 5 will allow users to sync wirelessly on a Wi-Fi network, but the new operating system isn't due for release until later this year. Luckily for those with jailbroken devices Wi-Fi syncing in possible right now.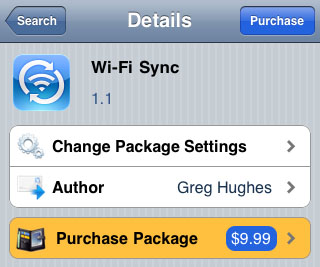 The Cydia app is named Wi-Fi Sync, and it can be found using the search function or by navigating to Sections -> Networking. The package costs $9.99 and can be paid for using Cydia's app store which accepts payments from PayPal and Amazon Payments.