Submitted by Bob Bhatnagar on
Snoozing an iPhone alarm in the morning just got more difficult. The jailbreak tweak EQUAlarm does its part to keep iOS users awake, by delivering a math equation. The ringing alarm cannot be silenced or snoozed until the correct answer is submitted.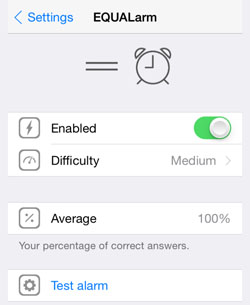 Once installed, the difficulty level of the math questions can be selected from four choices, ranging from easy to insane. Entering the wrong answer means an alarm that keeps on ringing, while solving the problem reveals buttons to Snooze or Dismiss.