Submitted by Marshall Walker on
The iPhone Dev Team quietly released redSn0w 0.9.10b7 for Mac and Windows on Friday. The new version features a few improvements like the addition of the Corona A5 untethered jailbreak for the iPhone 4S and iPad 2. Version 0.9.10b7 also includes a re-install feature for jailbreakers who accidently uninstall the untether, and it can pull your SHSH blobs from the Cydia Store when injecting an IPSW.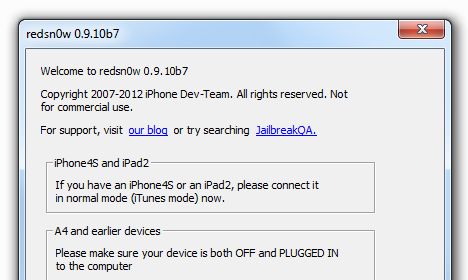 RedSn0w 0.9.10b7 also supplies new information about your device. For example the Dev Team blog says it lets you know "whether your iPhone 3GS has the vulnerable baseband boot loader, or whether your iPhone 3GS has the old exploitable bootrom." The Dev Team also noted that "the next new feature to be added will be built-in restore support, to provide an alternative to iTunes restores."
In other jailbreak news, Corona creator pod2g is currently working on a iOS 5.1 jailbreak. The iPhone developer tweeted that he was in possession of all the required exploits to complete the new jailbreak. Dev Team member Chpwn also reminded his Twitter followers that even though all the exploits were found, "this doesn't mean that a jailbreak exists, and it could be months away from a public release."
Redsn0w 0.9.10b7 for Windows and Mac OS X:
redSn0w 0.9.10b7 for Mac OS X
redSn0w 0.9.10b7 for Windows