Submitted by Frank Macey on
For iPhone owners who can't wait another three weeks to try on the Apple Watch, there's an app for that. ARWatch comes from Underside, a Belgian company with a portfolio including iOS apps and augmented reality projects. The app is free, easy to install and works like a charm.
That being said, you won't find ARWatch on the App Store. While there are no indications that ARWatch contains malware, install at your own risk. Everything begins with a magical PDF file that can be downloaded here. Print out this file, then use an app such as QR Reader for iPhone to scan the QR code at the bottom of the page.
When prompted, tap Install to add ARWatch to the iOS home screen. Now comes the fun part. Launch ARWatch and give the app permission to use the camera. When the live video image appears, focus on the target in the middle of the page and a rendering of Apple Watch will be generated.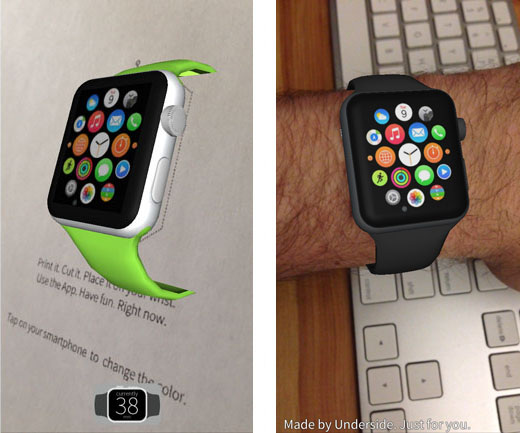 Of course, the simulation works best if the target is cut out and placed directly on your wrist. Tapping the button at the bottom of the screen will switch between 38mm and 42mm case sizes. Touch the watch itself and different color combinations will appear. When you've found one you like, long press on the screen and ARWatch sends a screenshot to the Camera Roll.