Submitted by Bob Bhatnagar on
According to an email from Steve Jobs himself, the latest and greatest iOS firmware version 4.1 will be publicly released soon. Already in beta 3, many features and bug fixes have been revealed by developers and are on their way to iPhone users across the planet. Apple has some finishing touches to add to the firmware before release, which is expected in September.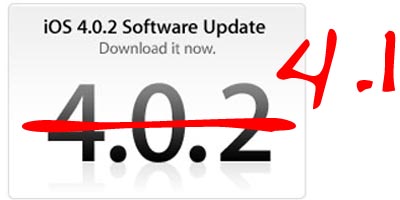 In the meantime, here's a rundown of what's coming in the iOS 4.1 update. First of all, iPhone 3G users will be happy to hear that iOS 4.1 will improve performance on their devices. Many have complained about sluggish performance and other issues after installing iOS 4.0 on this model iPhone. Subsequent fixes iOS 4.0.1 and 4.0.2 have failed to address the issues.
For those with an iPhone 4, proximity sensor issues are said to be fixed in iOS 4.1. Some users have had the iPhone screen turn on during a call, resulting in ears pressing buttons. The proximity sensor software is to blame. Additional problems with Bluetooth connectivity on the iPhone 4 will also be improved in iOS 4.
FaceTime will get more functionality, allowing users to call people with an email address, not just phone numbers. Apple is expected to roll out FaceTime video chat on more devices such as the iPod touch and next model iPad.
Apple's Game Center will launch with iOS 4.1 and allow iPhone owners to play games with others online, share scores and join leaderboards. Social networking features will make gaming on Apple's mobile devices even more interesting, interactive and fun. Users will also be able to control levels of privacy and other restrictions on gaming. Game Center was first introduced at WWDC 2010.
Modem firmware in iOS 4.1 is updated to 2.10.01. Other minor changes include a switch to turn keyboard auto-correct Check Spelling on or off, and improvements to the camera interface in landscape mode.
For developers, new application programming interfaces (APIs) include access to information such as the SSID of the Wi-FI network the iPhone is currently connected to, and the Game Kit framework that provides access to Game Center. Other APIs give apps access to photos in Contacts, add app control of fonts, and provide new ways for apps to save photos to albums in the Photos app.
According to AppleInsider Apple still needs to correct some serious memory leaks in iOS 4.1 beta 3 before the firmware can be released. Overall, this major update should correct some important issues and launch popular new features on iOS devices.