Submitted by Bob Bhatnagar on
The first beta of iOS 5.1 has been seeded to Apple developers, and includes several changes and improvements. First off, code has been uncovered pointing to support for a new piece of hardware, namely a Sprint iPad 2. Apple launched the iPhone 4S and iPhone 4 on Sprint's network just recently, and it appears they are taking the next step.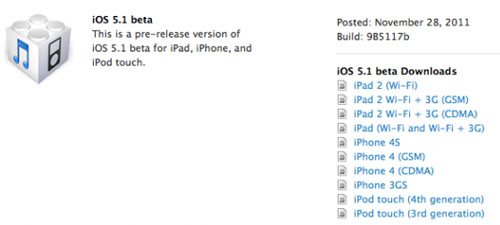 Other changes spotted by 9to5Mac include a new setting in Location Services for geofencing. One source of battery drain is geofencing, when an app such as Reminders puts a virtual perimeter around a location. Notifications are sent when leaving or arriving the location, and in iOS 5.1 each app that uses the feature has a special icon in Location Services.
iTunes Match will gain the ability to sync using a cellular data connection as opposed to just Wi-Fi. This option also appears under Settings and can be switched ON or OFF. Of course, the firmware update also includes various bug fixes and other changes. The big question is whether or not users experiencing problems with iOS 5 and iOS 5.0.1 will find any relief.
The biggest complaints have been inexplicable battery drain and Wi-Fi networks disconnecting from iOS devices intermittently. iOS 5.0.1 was supposed to address the battery issues but came up short for many users and their devices. Considering Apple is jumping to iOS 5.1 this early, it's possible the company plans to release several other new features.
Code previously discovered in the Camera app that allows panoramic photos has not yet been activated. Apple also has yet to make FaceTime work over cellular data connections, although it has been proven to work already. As always, if you're interested in jailbreaking your iPhone untethered in the future you should stay away from iOS 5.1. The iOS 5.1 beta firmware expires on January 14, 2012.