Submitted by Bob Bhatnagar on
The iOS 5.1 firmware update came one step closer to public release as Apple has launched the third beta version to developers. Nearly a month after the iOS 5.1 beta 2 release, this latest version officially contains bug fixes and improvements. As is usually the case, as developers install and examine the new release more changes will be discovered.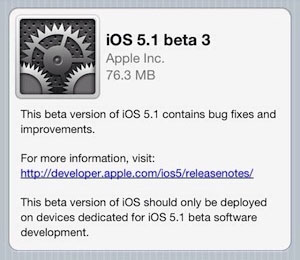 Already it has been reported that the beta 3 version brings back a toggle under settings to switch 3G cellular data on or off. The toggle disappeared in an earlier release, despite the fact that having this option can help save battery life by reverting to EDGE data. iOS 5.1 beta 3 can be updated over-the-air (OTA) or downloaded directly from the Apple Developer Center.
When iOS 5.1 is finally released, the firmware should contain fixes for iPhone 4S battery life and refinements to the iCloud Photo Stream. iPhone 4S users experiencing outgoing call audio problems are also hoping for a fix in iOS 5.1. It's not clear whether or not Apple will incorporate a fix for the problem as it has not yet been acknowledged by the company. The problem revolves around some outgoing calls leaving the caller unable to hear anything on the other end of the line. Several temporary fixes for the problem have been suggested.
Enhanced dictation support during text input, baseband updates and a variety of minor bug fixes have already been revealed in iOS 5.1. Hints of a quad-core Apple A6 processor have also been revealed in iOS 5.1 source code. The next generation processor is expected to debut on the iPad 3 and iPhone 5 later this year.