Submitted by Thomas Estilow on
Sports fans now have another way to show off their favorite hobby from ZAGG. A twist on their LEATHERskins product line instantly turns any iPhone into a true leather baseball or football. Genuine textures recreate the look and feel of actual sporting equipment and protect the sides and back of your device from scratches and damage.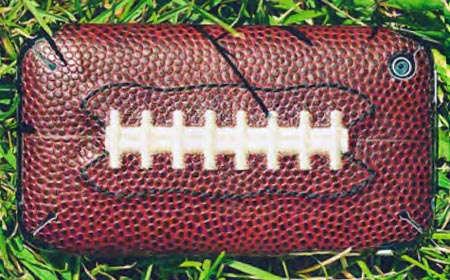 SportsLEATHER is just as easy to apply as a film, yet it adds the touch and feel of real leather to your iPhone. No more scratch-prone plastic or breakable glass backs. Supple leather forms to curves and the sportsLEATHER design of your choice is custom-fit to your specific iPhone model.
SportsLEATHER is pictured here in both football and baseball designs that simulate the actual patterns, look and texture of the real thing. These skins are just under one millimeter thick, and pieces are included to cover the back and sides of your iPhone. Package deals are available (ZAGG calls them bundles) that include the sportsLEATHER of your choice along with an invisibleSHIELD for the front touch screen.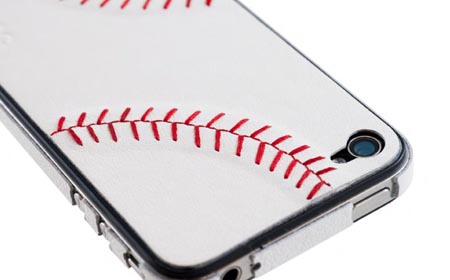 The invisibleSHIELD is a crystal clear heavy-duty scratch proof screen protector that applies to the front glass of your iPhone for extra protection. When combined with a sportsLEATHER skin, your iPhone is protected on all sides from damage in style.
ZAGG sportsLEATHER skins
require no spray solution to install. Just peel and stick the leather skin to the back and sides of your iPhone. The invisibleSHIELD is installed with a light spray of solution which insures a proper and clear fit over the touch screen glass of your iPhone. ZAGG sportsLEATHER skins come with a 45 day Money Back Guarantee. This unique product is available now for online purchase at the ZAGG website. SportsLEATHER football and baseball skins are $29.99 with free shipping. Bundles including the invisibleSHIELD are $44.98.
For more information and photos of the sportsLEATHER iPhone skins, or to order products with free shipping, check out ZAGG's website.