Submitted by Marshall Walker on
Verizon has announced that their "Share Everything Plan" will go live on June 28th. The plan gives users unlimited talk and text with the ability to share data on up to 10 devices. The plans start at $50 per month for 1GB of data and work their way up to $100 for 10GB of data. Each additional device will cost you between $10 to $40: $10 for tablets, $20 for hotspots, $30 for basic phones and $40 for smartphones. Mobile hotspot is included at no additional cost.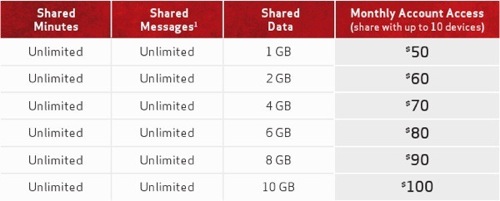 The Share Everything Plan makes Verizon the first U.S. carrier to offer the ability to share a lot of data across multiple devices. However, as Ina Fried of AllThingsD pointed out, it may put single smartphone users at a disadvantage.
"Under the new plan, a customer pays $90 a month ($40 for the smartphone and $50 for 1GB of data) and gets unlimited talk and texting. Under the old plans, the same customer could have paid that same $90 and gotten a bucket of voice minutes plus 2GB of data and unlimited text messaging."
AT&T Mobility CEO Ralph de la Vega hinted that AT&T is considering offering a similar plan in the future. Vega told CNET that he is "comfortable" with the idea of shared data plans, but he did not offer any specific details.
Verizon released a
PDF
explaining the new plan.