Submitted by Marshall Walker on
With the release of the 4G LTE iPad an LTE iPhone seems imminent, and new iPad owners are quickly learning about the pitfalls of fast wireless connections. The Wall Street Journal published a report about the responsibility that comes with 4G connectivity by profiling one man who blew through 2GB of his Verizon data plan while watching March Madness games.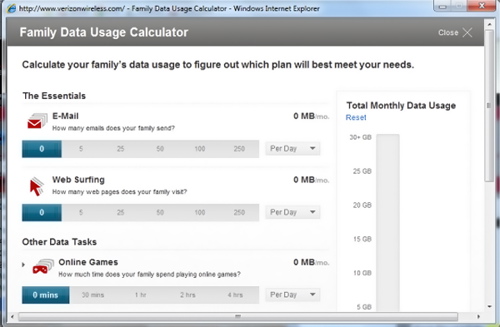 "Two hours of college basketball—which he viewed mounted to his car dashboard and live at tournament games—had burned through his monthly wireless data allotment of two gigabytes. Now, to keep surfing the Web or watch more NCAA hoops over Verizon Wireless's 4G network, Mr. Wells will have to pay an extra $10 for every gigabyte above his current $30 subscription."
Verizon and AT&T are working on shared data plans to offer slightly discounted monthly data rates to families. PhoneArena published a leaked online Verizon calculator that allows families to see if a shared plan works better for them. Carriers are not drastically slashing monthly bills, but it will be interesting to see if the landscape changes as more and more families become multiple tablet and smartphone homes.
Tablet and smartphone manufacturers are pushing online video and video games to sell their high-resolution screen devices. As more people make the leap to faster tablets and phones the demand for data will increase. Newer users may not like wireless carriers charging them more to watch YouTube videos on the iPad 3's Retina display. This means people will either have to be more responsible with their new LTE devices, or carriers will have to bend to demands for cheaper data.
Carriers may have to get on board if they don't want to see more lawsuits over data throttling and misleading advertising. I'm not suggesting that AT&T and Verizon are promising unlimited video game and movie streaming services on TV, but if tablet and smartphone manufacturers want to muscle their way into the home movie and video game market something will have to change.
Apps can be fun, but new and old users should read everything before hitting the download button. The NCAA March Madness Live app does promise that you can watch all 67 March Madness games on your iPad, iPhone or iPod touch for $3.99, but it also warns using its services "may incur data and other charges from your provider." However, app developers, carriers and manufacturers might have to start being even more clear about what it costs to enjoy their services in the future. If you believe that it's the customer's responsibility to understand what they're buying, you should remember that we do live in a country where people sue over the temperature of their coffee.