Submitted by Marshall Walker on
If you prefer Google Chrome (or any other browser) over Safari but use Safari because it's faster, I have the perfect jailbreak tweak for you. iPhone users can now give Chrome and other third party apps a speed boost with a new jailbreak tweak called Nitrous.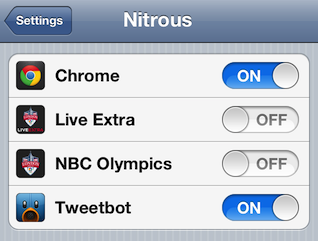 Safari is faster than other mobile browsers on the iPhone because Apple restricts access to the fast Nitro Javascript engine in iOS. Nitrous levels the playing field by unlocking the Javascript block for third party apps. This allows browsers like Chrome and apps like Tweetbot to perform much better.
iDownloadblog put Nitrous through some tests to see if it really works. Using SunSpider's Javascript Benchmark tool, IDB discovered that Chrome is substantially slower than Safari when not using Nitrous, and it's a lot more a lot more comparable to Safri when Nitrous is enabled.
"Not only do the hard line figures speak volumes for this tweak, but I can actually attest to the fact that the tweak makes Chrome more responsive as well. Pages load faster, and you'll notice an overall boost in snappiness and response as a result."
Jailbreakers can now use Nitrous and Ryan Petrich's BrowserChooser to break free of their Safari shackles. The tweak is $1 via Cydia's BigBoss repo.