Submitted by Frank Macey on
App Store users now have a convenient way to gift apps to friends and family. Apple has restored this function to iOS 6 by including the option on the sharing screen directly in the App Store. Not only can you gift an app today, but you can even schedule delivery of your gift for a future date.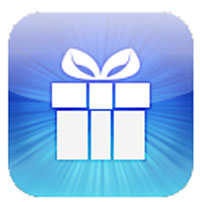 The purchase you make will be sent to the gift recipient, who can download and install the gifted app for free. Charges for the gift will be applied to the iTunes account associated with your Apple ID. So how can you access this feature that comes to iOS 6 users just in time for the holidays?
To gift any paid app on the App Store, open its information card by tapping the icon. You can gift games, productivity tools or any other app currently available (and not free) on the App Store. Once you are viewing the information and screenshots for the app, tap the share icon in the upper right hand corner. Options will appear, select the Gift option in the lower right hand corner.
The Send Gift screen will come up, which allows you to enter the email of the person you're sending the gift. Enter a personal message if desired, then select delivery for Today or choose a date within the next 90 days. You can also send gifts using iTunes from a computer. It's good to know that Apple has restored gifting functions to the iOS App Store, without having to push a firmware update.