Can I watch Google Video on the iPhone?
Finding the YouTube application on your iPhone strikingly less exciting than you thought it would be? You're not alone. If you're getting sick of YouTube and want Google Video on your iPhone, the good news is you can have it.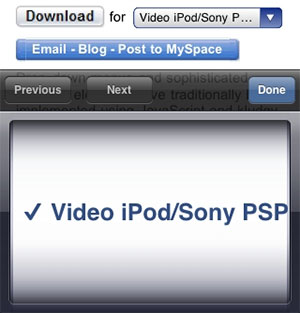 But wait, Google Video uses Adobe Flash to play videos and the current version of the iPhone doesn't support Flash - so how can you watch Google Video?
Well, the good news is that there is a handy workaround. The best part about it, is that it's ridiculously easy and doesn't involve any trickery or third party sites. The reason being, the folks at Google have provided a feature which lets you download Google Video content in an iPod/PSP compatible format.
Search and discover videos as you normally would through the Google Video interface. When you select a video, it won't play - because Flash doesn't work. Instead, select "Video iPod/Sony PSP" from the dropdown list (pictured above).
Subsequently, your video will download and play. Enjoy!