Submitted by Bob Bhatnagar on
The jailbreak tweak RecordPause brings some old-fashioned in-camera editing to the iOS Camera app. Normally videos are recorded and edited later, by bringing together different clips with software. By adding a pause button to active video recording, RecordPause makes it possible to stop and restart recording in the same video file.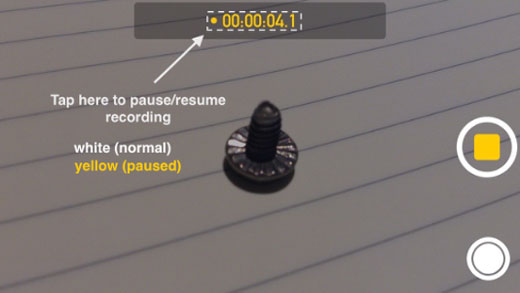 Once installed, tapping the time counter when recording video will put the stock Camera app in pause mode. The interface turns yellow, and the viewfinder preview dims. To restart recording tap the time counter again. When finished recording, stop the video normally and the in-camera edit will be saved to the Camera Roll.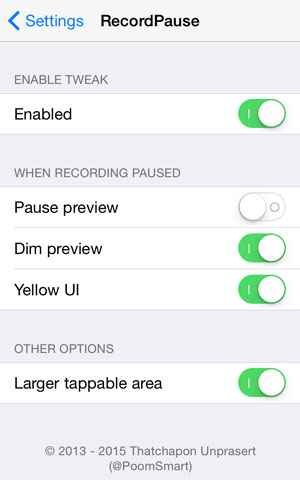 In addition to a toggle that disables RecordPause completely, there are several options under Settings. The viewfinder preview can be paused when recording is paused, however this makes it difficult to line up the next scene in the sequence. The dimming screen behavior and shift to a yellow user interface when paused can also be toggled.
Last but not least, the tappable area around the time counter can be enlarged, making it easier to pause video.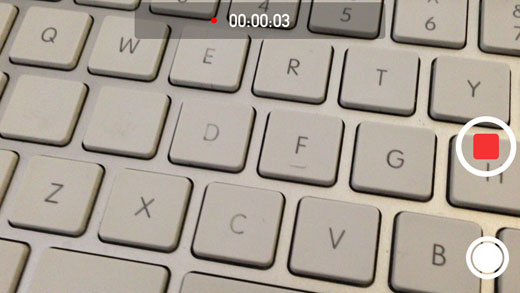 Above, recording as normal. The red button will stop and save to the Camera Roll.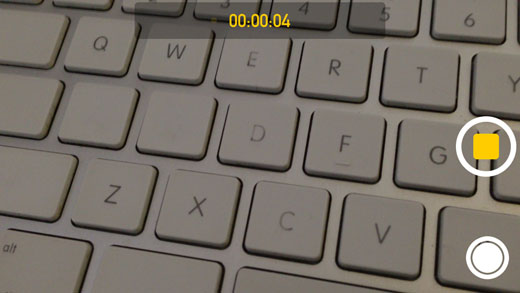 In this capture, RecordPause is enabled and video recording is paused. Note the change in the interface to yellow, and the dimmed preview. Video recording can be resumed after lining up the next scene.
RecordPause is available from the BigBoss repo on Cydia for free. To start customizing iOS, click here for instructions on jailbreaking iOS 8.0-8.1.2. Those with older firmware can jailbreak with Pangu (iOS 7.1) or evasi0n 7 (iOS 7.0). Find out how to purchase and install Cydia tweaks with this guide.
Follow the iPhoneFAQ Twitter feed and stay tuned to Facebook for the latest jailbreak tweaks and news.