Submitted by Bob Bhatnagar on
One great thing about the iOS Mail app is the ability to mark emails as unread. This can help remind the user that messages are waiting and need to be reviewed again later. Some prefer to use this trick instead of flagging or leaving the mail marked read. Stock iOS 7 has no such function in place for the Messages app.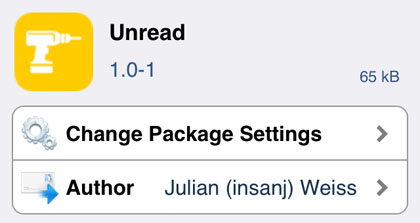 Now thanks to the jailbreak tweak Unread, iMessage and SMS threads can be marked unread. Once installed from Cydia, the Unread tweak has no settings to configure. Simply open the Messages app and toggle the read / unread status by tapping and holding a message thread. The blue dot indicating whether or not a message has been read will display accordingly.
One caveat, while this tweak is free and does show unread messages within the Messages app on iOS 7, the home screen badge does not change. This means the number displayed will always be based on the original number of unread messages, not any messages toggled using the tweak. This takes away one of the main advantages of marking messages or emails unread, which is to remind the user that these items are waiting to be revisited later.
Unread is available free on Cydia from the BigBoss repo. Check here for instructions on how to jailbreak iOS 7.x with evasi0n 7. You can also find out how to purchase and install Cydia tweaks with this guide.