Submitted by Chad Shmukler on
ShieldZone (ZAGG Inc), makers of the invisibleSHIELD line of premium screen protectors, have released what they are calling the "first accessories for the new iPods". In reality, this means that they're releasing new invisibleSHIELD screen protectors for the recently announced iPod Touch, iPod Classic, and the new third generation iPod Nano.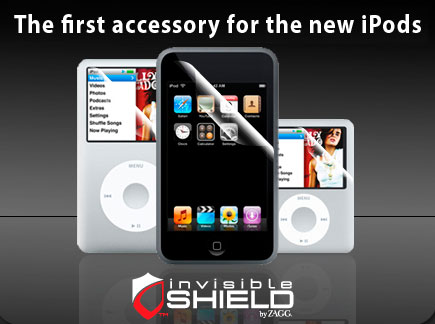 For those of you who aren't familiar with the invisibleSHIELD line of products, the invisibleSHIELD screen
protectors are flexible laminate protection for a large variety of electronic devices. invisibleSHIELD custom fits each protector to the device it is intended to protect. And yes, you've heard correctly, the material that invisibleSHIELDs are made out of was indeed originally developed by the US military and used to protect the edges of helicopter blades.
Like all their products, the invisibleSHIELD for the new iPods are guaranteed for life and are covered by a free replacement plan. Even if you simply need to remove it to have your iPod serviced, etc - ShieldZone will send you a new invisibleSHIELD free of charge.
The shields for the new iPods range from $9.95 to $24.95, ship free of charge, and can be
ordered directly from ShieldZone
.
For a more in-depth look at the invisibleSHIELD, read our review of the iPhone invisibleSHIELD.