Submitted by Sammy Snyder on
Pinterest has announced plans to add a new Edit Home Feed option that aims to makes your account more personal. The new feature basically offers content suggestions based on your pinning history. For example, if you pin a lot of sports related images, Pinterest will show you more sports related pins. The new feature will also introduce Unfollow Boards, so you can stop seeing content you don't like, and personalized board suggestions based on the websites you like to visit.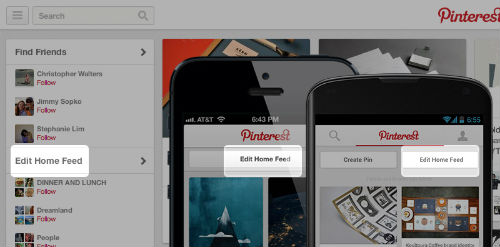 With internet paranoia at an all time high, Pinterest was quick to point out its Do Not Track option. First of all, Pinterest will only track websites that feature a "Pin It" button, however if that's still too much data collecting for your tastes, you will be able to opt out of the feature.
Currently you can clear your Pinterest history by navigating to your profile > Account Settings and scrolling down to the bottom until you see the "Clear Browsing History" option. Just tap any of the three buttons to reset your browsing history, image cache and recent cookies.