Submitted by Bob Bhatnagar on
Sharing photos from your iOS device over email is great, until you run into the built-in limitation that prevents selecting over 5 photos. This means that if you have a large number of photos to send via email, the iPhone will force you to send them in several emails with 5 attachments each.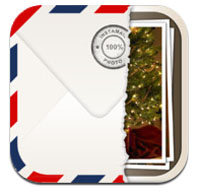 Thanks to developer Mohamed Alaoui Mrani, iOS users can download Instamail Photos from the App Store and send unlimited photos in one message. The app is currently on sale, priced at $0.99 for a limited time. Of course, you can't go sending too many photos in a single email, because most service providers limit the size of email messages.
Apple may have limited iOS to sending 5 attachments to ensure a speedy process, or keep bandwidth usage down on cellular data networks. Whatever the reason, Instamail Photos is simple to use. Just open the app and select the photos you're interested in emailing. You can even use a select all button to choose all photos on the Camera Roll or in an album. When you're finished tap the Done button.
The app will kick over to the familiar iOS mail screen so you can enter the email addresses of recipients, a subject and text for your message. Before the message is sent, you can choose to compress the photos or leave them full size. Tapping send will complete the process and deliver all of your photos.