Submitted by Bob Bhatnagar on
Now that Safari, Mail and Photos have the ability to print after updating to iOS 4.2 on your iPhone, do you need an AirPrint-enabled printer to use the feature? The answer is no. Several programs have already been released for Mac and Windows that will set up your existing printer to work with AirPrint over a Wi-Fi network.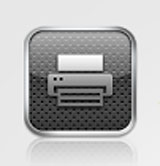 Once installed and properly configured, your printer will appear on the iPhone whenever the print option is selected from within an app. Printers that are connected to your computer can be used with AirPrint and the following programs:
1. AirPrint Activator for Windows. A free program compatible with 32 and 64 bit Windows platforms. Make sure to scroll down to the English version (unless you can read German). After installing as administrator, set your firewall to stop blocking AirPrint. If your printer asks for a name and password enter the administrator's credentials. Now you can print from your iOS device to a Windows-connected printer.
2. AirPrint Hacktivator. Also free but for Mac OS X 10.6.5 only. Once AirPrint is activated on the Mac, each printer must be removed and re-added using the Settings -> Printers & Fax screen. Check the box next to Share this printer and make sure Printer Sharing is turned on under Settings -> Sharing. Your iPhone now has access to the printer connected to your Mac.
3.
Printopia
. This software is $9.95 and compatible with Mac OS X 10.5.8 and 10.6.5. Another way to share printers connected to your Mac that doesn't modify your operating system. Printopia also makes it possible to "print" documents from your iPhone to a PDF or JPG file on your computer. You can even send these paperless files directly to your Dropbox folder for syncing and future printing.
More AirPrint functionality is in the works from Apple as well as printer manufacturers. In the meantime, these programs can be set up to activate AirPrint with your current peripherals. If you're in the market for a new printer, Apple currently lists the following HP printers as AirPrint-enabled:
Envy e-All-in-One series (D410a)
LaserJet Pro CM1415fn Color Multifunction Printer
LaserJet Pro CM1415fnw Color Multifunction Printer
LaserJet Pro CP1525n Color Printer
LaserJet Pro CP1525nw Color Printer
LaserJet Pro M1536dnf Multifunction Printer
Photosmart e-AiO (D110)
Photosmart eStation (C510)
Photosmart Plus e-AiO (B210a)
Photosmart Premium e-AiO (C310a)
Photosmart Premium Fax e-AiO (C410a)