Submitted by Thomas Estilow on
Making panoramas on the iPhone is easier than ever thanks to 360 Panorama, an app by Occipital updated yesterday on the App Store. No more stitching together images with desktop software or worrying about focal length. 360 Panorama simply records the photo as you pan across the scene.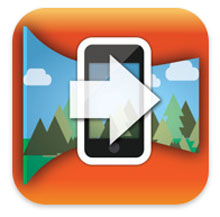 The app works smoothly and intuitively to record a panorama much like recording a video. In fact, because the software uses video processing it only works with the iPhone 3GS, iPhone 4, and latest iPod touch. Once the image is created the panorama can be emailed, saved to the camera roll, or shared online.
360 Panorama will warn you to slow down if there's low light or you're shaking the camera too much for a clear image. Elapsed time for the capture will appear and a choice of background color for the edges of the scene is provided (black or white). Completed panoramas can be shared with yFrog or TwitPic and viewed in an interactive 360 viewer that works on iOS devices and in Flash-enabled browsers.
When recording the scene, the iPhone can be panned not only left and right but also vertically to fill in more of the panorama. The app can also create stereographic photos with your panorama data. The iPhone 4 gyroscope and retina display are both supported by 360 Panorama (but not required for use). The finished scene is immediately saved to the Camera Roll without stitching.
Occipital is known for its RedLaser app, which scans QR codes and several different kinds of bar codes for price searching and other purposes. The developer also created ClearCam to help iPhone photographers get sharper photos and increase resolution. 360 Panorama is available now from the App Store for $2.99.