Submitted by Bob Bhatnagar on
So you've decided to close your Instagram account and save your retro photos from the clutches of Facebook. Many users have enjoyed the creative filters on Instagram, which are known for giving the images an analog, film-like look.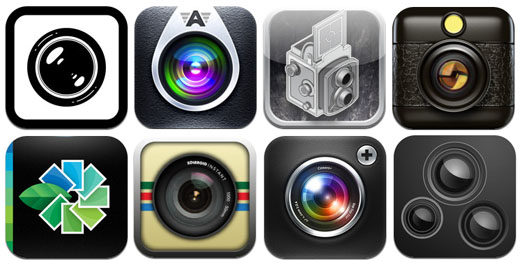 The good news is there are many photography apps in the App Store with even better filters. Many of these photo apps are free and provide several options for sharing and showing off your pictures to friends. Here are 8 of the top alternatives to Instagram available on the iPhone.
1. 1-Bit Camera ($0.99)
For the ultimate in retro digital photography, 1-Bit Camera will snap black and white photos made up of only these two discrete colors. Two different aliasing algorithms are provided, to simulate the look of photos displayed on a Nintendo Game Boy or original Macintosh computer.
2. Camera Awesome (Free)
This app is packed with features including incredible effects, multiple sharing options, and great design to supercharge your iPhone photos. Camera Awesome even includes video recording features. Note that some presets and filters will run you extra with an in-app purchases ranging from $0.99 to $3.99.
3. Pixlr-o-matic (Free)
Pixlr-o-matic is described as a darkroom app, which provides multiple options for borders, filters and other image mods. The range of features provided for free is extensive, and a PLUS pack can be purchased in-app for just $0.99. Images can be selected from the camera roll for editing and shared from the app.
4. Hipstamatic ($1.99)
Once the main competitor to Instagram, Hipstamatic goes for the ultimate in analog photography with swappable lenses, flashes and films. Your work can be instantly shared via popular social networking and photography sites. You can even order real prints mailed out to your address or enter photo contests every month. HipstaPacks with additional features can be purchased in-app for $0.99 each.
5. Snapseed ($4.99)
Snapseed provides professional-level photo editing features for iOS devices. Making fine adjustments to selected areas in photos, or utilizing the Auto Correct feature is a breeze. Creative filters and borders can be combined for the perfect retro look. Once your images are perfect they can be shared, even at original resolution. The iPad version supports RAW photo editing, although file sizes are limited to 16 MP on the iPad 2 (6.25 MP on the original iPad).
6. Retro Camera Plus (Free)
If you're looking for an introduction to some of the best film cameras of yesteryear, Retro Camera Plus delivers 6 fun ones in a completely free package. Just switch to the camera you want to use and snap away. The analog looks are designed after cameras such as Holga, Polaroid and Diana, with a DIY pinhole camera thrown in for good measure. Save your favorite shots to the camera roll or share with friends.
7. Camera+ ($0.99)
Camera+ comes loaded with features, including the ability to select two different areas for focus and exposure when taking a picture. 6x digital zoom and 16 scene modes help snap the perfect shot. There are many effects and borders, as well as versatile photo editing features included in the app, with an additional Analog FX Pack available for $0.99. Considering its price, Camera+ is loaded with features including sharing on Flickr and elsewhere.
8. CameraBag ($1.99)
Looking for 14 different cameras in one app? CameraBag has you covered, including analog greats named Lolo, Helga, Instant, 1974, Silver, and 1962. You can even shoot with a fisheye lens or with infrared film. Once you take a photo, preview the image through each different camera effect before saving or uploading to your favorite image sharing service.