Submitted by Marshall Walker on
BlackBerry's Messenger app was submitted to Apple two weeks ago, according to a Tweet from a developer who worked on the app. It is unknown why the approval process is taking so long since the current approval time for the App Store is 4 to 5 days. Perhaps that is why the Senior Strategic Account Manager at BlackBerry, Alex Kinsella, felt the need to send a tweet.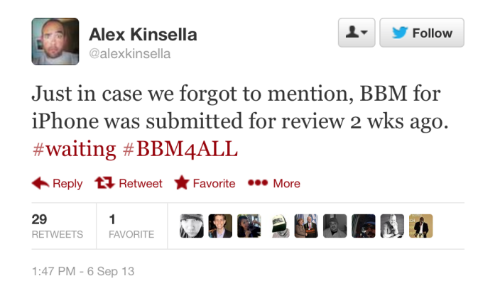 The popular messaging platform was promised to land on both iOS and Android devices "before the end of this summer," by CEO Thorsten Heins in June. At least iOS users now know that it's not BlackBerry's fault for missing their own deadline.
Early rumors suggested that the iOS version of BlackBerry Messenger would only include the ability to message, and new features like BBM Voice would be added later. However, it is unknown what the final version may include, but we should hopefully find out very soon.