Submitted by Marshall Walker on
There's no need to wait until Black Friday for an iPhone 5s or iPhone 5c sale. AT&T is currently offering one of the best deals on both of Apple's new handsets. You can nab a 16GB iPhone 5s for $100 or a 16GB iPhone 5c for $50. That's 50% off the suggested retail price of the iPhone 5s. As usual, these deals require that you sign a new two-year contract with AT&T.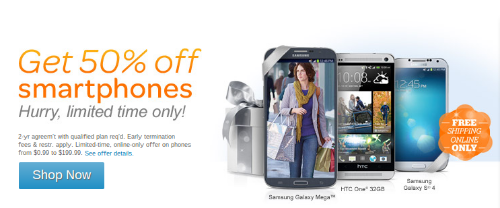 A lot of big box retailers such as Walmart are also offering deals on Apple's latest generation of products, but these deals normally involve some kind of gift card rebate. On Black Friday, Walmart will be giving away a $75 gift card with the purchase of an iPhone 5s or iPhone 5c, and the iPad Air will be $20 off at Target. The Target iPad Air deal also includes a free $100 gift card, essentially making the the new tablet only $379. This is the best Black Friday iPad deal that has been announced so far.
Real bargain shoppers can also look to AT&T which is offering the discontinued iPhone 5 for $50 and the iPhone 4s for $0.50. You can take advantage of any of these deals at ATT.com starting today.