Submitted by Marshall Walker on
It has been a crazy few days for the jailbreak community with the unexpected release of evasi0n 7 and its many controversies, but that hasn't stopped iH8sn0w and winocm from releasing their "drama free" iOS 6.1.3 - iOS 6.1.5 untether. The new jailbreak is called "p0sixspwn" and it is available now as a Cydia package. It allows iPhone 4, iPod touch 4th generation, and iPhone 3GS owners using redSn0w or sn0wbreeze to untether their devices. Here's iH8sn0w's instructions on how to install p0sixspwn: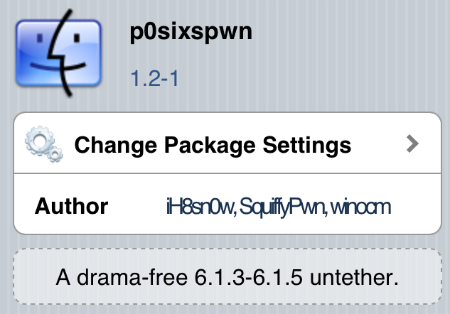 1) Have a tethered jailbreak (either via redsn0w [Point to 6.0 IPSW] or sn0wbreeze).
2) Open Cydia.
3) Click the "Changes" tab in the footer.
4) Press the "Refresh" button in the top left corner.
5) After "Reloading Data", perform a search for "p0sixspwn" (the O is a zero).
6) Tap Install.
The hacker duo also promise to deliver an A5+ jailbreak for 6.1.3/6.1.4 by Christmas. You can follow both @winocm and iH8sn0w for future p0sixspwn updates, or visit their JailbreakQA if you have any questions.