When iOS 7 first came out, a lot of folks were upset with the new flat appearance of the icons. Now you can unflatten the appearance and add depth through a number of settings with the new jailbreak tweak IconOmatic. This tweak is free to download from Cydia's ModMyi repository.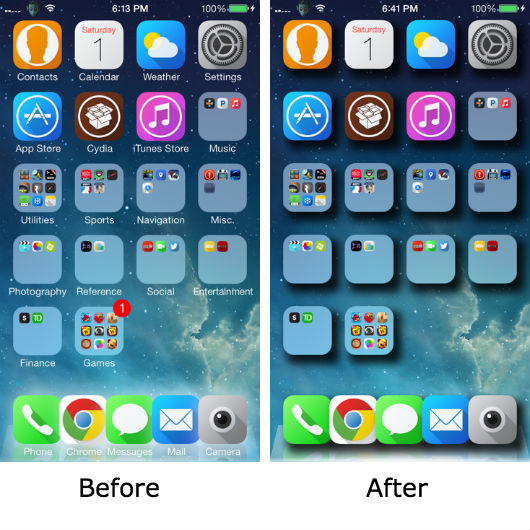 Once you have IconOmatic installed, head to Settings -> IconOmatic. Inside, you will
find several settings to customize your icons' appearance:
Use Overlay - This toggles the overlay, which refers to the glossy finish on the icons.
Use Shadow - This toggle allows you to add a standard shadow to your icons.
Use Dynamic Shadow - Enables Dynamic Shadow.
Create Dynamic Shadow - Lets you customize your icons' shadows.
Compatible Themes - IconOmatic comes with three themes that you can apply in WinterBoard - iOS6 iconOmatic Theme, LiftKit iconOmatic Theme and Decke3D iconOmatic Theme.
Remove Blurred Dock - exactly as it says.
Remove Icon Labels - likewise.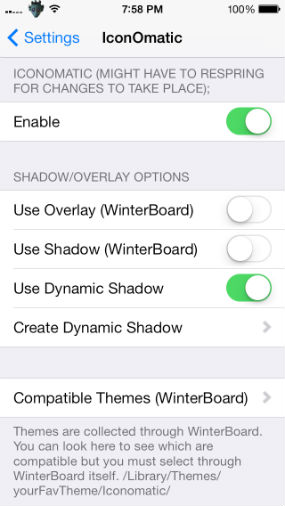 The standard shadow adds nice depth, but you can do a lot more with the dynamic shadow. When you create your dynamic shadow you can adjust the shadow's radius, opacity, height and width. You can also move the shadow up, down, left and right relative to the icon which, in effect, lets you move the light source that creates the shadow. There is a demo icon at the bottom of the create dynamic shadows settings screen, so you can see the effects of your changes before applying them. The dynamic shadows feature is only available for a ten day trial period, after which you will have to upgrade to IconOmatic Pro (which doesn't appear to be available quite yet) or do without. The pro version, according to ModMyi, will let you edit icon labels and change icon sizes. The blurred dock and icon labels toggles are currently in beta, both worked fine for me.
IconOmatic is compatible with all iOS 7 devices including the iPhone, iPad and iPod Touch. You can download it now for free from Cydia's ModMyi repository.