People use Siri to varying degrees; while some depend on her for a majority of their daily iOS usage, others still consider the personal assistant a not-so-useful gimmick. Once you get to know more of Siri's functionality, its likely you'll end up consulting her quite a bit. If you are a sports fan, here are five questions you can ask Siri that will undoubtedly give you quicker answers than if you try to manually look them up on your iPhone's browser:
1. When's the next time Lebron James faces Miami? Siri will look this right up for you. You can also ask when two players or teams will face each other: "When will Tim Lincecum face Clayton Kershaw?" If it's on the books she'll give you an answer, if not you'll get web search results.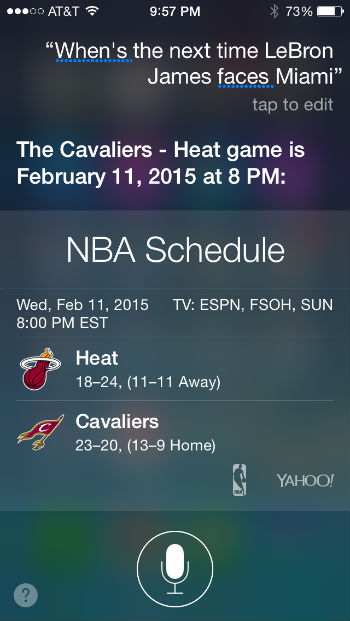 2. When's the last time the Eagles won? And other schedule related questions. What is their schedule, when do they play so-and-so, what was the score of the Eagles Cowboys game, who do they play next. This beats looking up the schedule in Safari.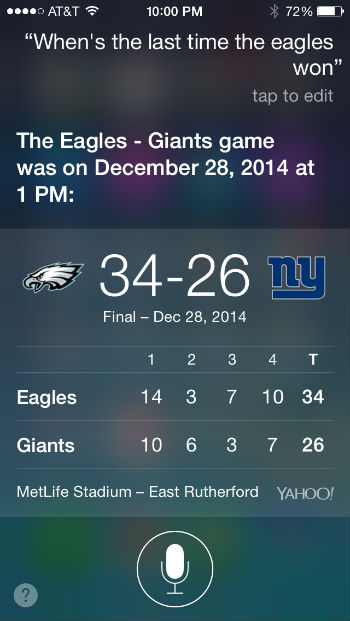 3. Who is the heaviest player in the NFL? These kind of questions are hit or miss. She will answer heaviest, lightest, tallest, shortest, oldest and youngest in at least the four major sports. When I asked who the fastest player in the NFL was, she told me the Seahawks won, yet when I asked who had the highest QB rating she answered properly... You'll have to experiment. You can also compare players: "Is so-and-so taller than so-and-so?"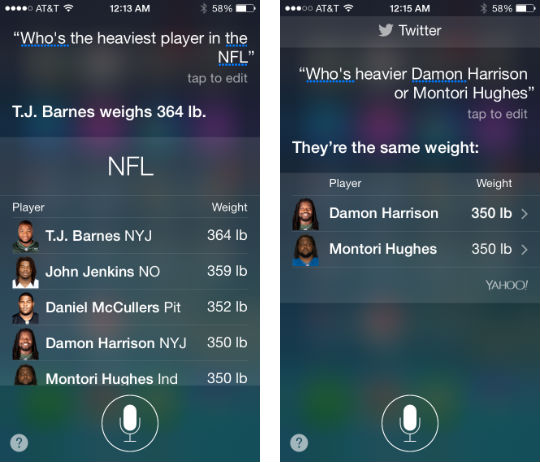 4. What's Richard Sherman been tweeting about?
Want to quickly see what a player is tweeting? Just ask Siri and she'll bring it up quickly. She'll ask for access to your Twitter account first.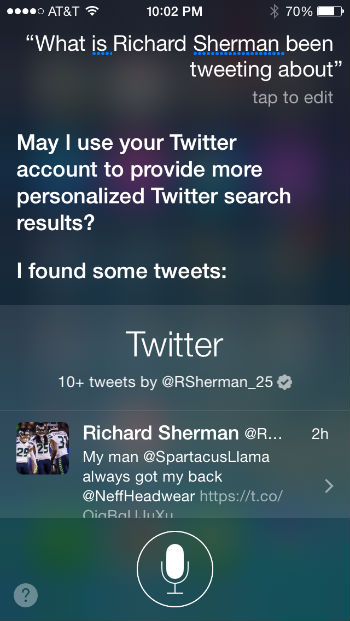 5. What's the over under on the Super Bowl? For the gamblers out there. You can also ask what the line is. Sadly she can't tell you who will win.