Submitted by Marshall Walker on
UPDATE: Click here for updated instructions on how to hide photos on the iPhone and iPad.
Most of the changes Apple makes to its Photos app revolves around sharing, not hiding, your images from family and friends, but now there is a new "Hide Photo" option in iOS 8. The new photo hiding feature was discovered in the iOS 8 beta by an iDownloadblog reader.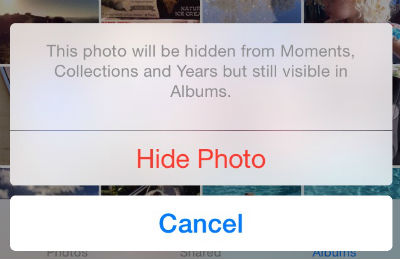 To hide a photo in your photos app, simply tap and hold the thumbnail of the image you want to hide then tap "Hide" and "Hide Photo" to confirm. The photo will now be hidden from Moments, Collections and Years but still available in Albums. This is not very helpful if you want to keep really personal photos hidden from people thumbing through your Photos app, but I guess it is a start. There is also a slight chance that the feature could be tweaked by Apple before the final version of iOS 8 is released to the public.
Apple announced several big changes to the Photos app during its WWDC keynote on Monday. New features include a new service called iCloud Photo Library for storing images, new editing capabilities and time-lapse video. The company also announced a new Family Sharing option that will allow up to six people to share photos, App Store purchases and more.