Submitted by Frank Macey on
One of the major improvements to iOS 8 announced at today's WWDC keynote presentation are new features coming to the stock Photos app. Apple is adding a new service called iCloud Photo Library to help store iOS users' photos safely in the cloud. However, that's just the beginning.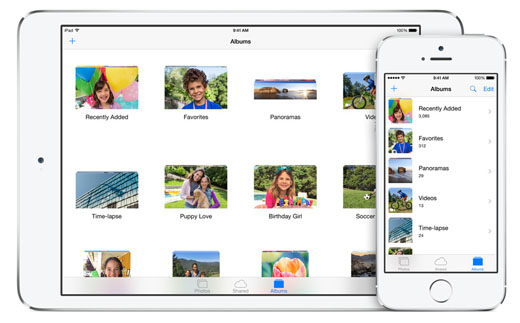 Apple touts the iCloud Photo Library as a way to store and easily search any photo from any device. Once enabled, Photos will automatically keep everything on iCloud in its original resolution and format. The files can be accessed on the web or from any iOS device. Searches result in suggestions to check out favorite photos, or those taken around the same time or place.
As always, iCloud is free to all iOS users for 5GB of space. Increasing the storage space means a monthly charge, which starts at $0.99 for 20GB and $3.99 for 200GB, with tiers up to 1TB. Not only are photos completely synced between iOS devices, but optimized smaller files are stored locally on each device, with the full resolution images only kept on the cloud.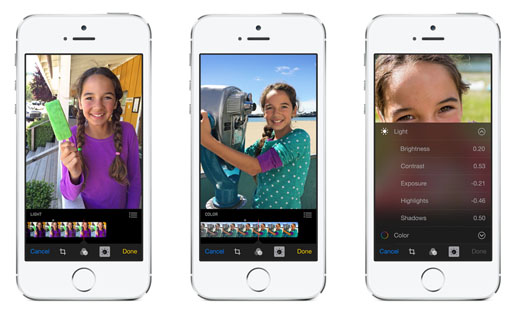 New and powerful editing capabilities are also coming to iOS 8 Photos. Smart composition tools will help tweak the orientation and crop of images automatically. Similarly, smart adjustments can tweak light and color to come up with the perfect exposure. Third party filters and editing tools are also coming to the Photos app. iOS 8 will make it possible for developers to create unique additions to Photos for image manipulation.
Last but not least, time-lapse video will be baked into the iOS 8 Photos app. It's not clear which devices will be able to utilize time-lapse video. Slow motion, for example is limited to the iPhone 5s running iOS 7. More details to come when iOS 8 is launched in the fall. Until then, check out
Apple's iOS 8 preview of Photos
.