Submitted by Frank Macey on
The iOS 8 installation rate continues to tick upward ever so slowly. Upgrades have slowed since late last year, with 69 percent of compatible devices currently running iOS 8.0 or later. Two weeks ago the number stood at 68 percent, which points towards a plateau in updates to iOS 8 amongst iPhone, iPad and iPod touch users.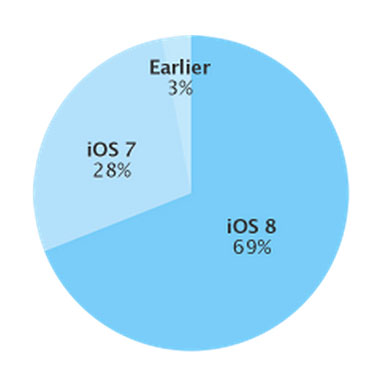 Apple's App Store Distribution page illustrates current iOS usage in a pie graph, with iOS 7 at 28 percent and previous versions comprising just 3 percent of the total. All of the statistics were collected as of January 19th, 2015.
Last month the iOS 8 total hovered at 63 percent. While the current firmware version is iOS 8.1.2, Apple has already seeded iOS 8.2 beta 4 to developers. It's possible Apple will release an 8.1.3 update ahead of the 8.2 launch. iOS 8.2 is focused on WatchKit, and will likely release alongside the Apple Watch later this year.
When it comes to iOS 8.1.3, beta 2 has already been released to retail employees for wide-scale testing. This update will come sooner rather than later, but will only include minor bug fixes and enhancements at release.
The move from iOS 6 to iOS 7 is much more significant that the move from iOS 7 to iOS 8. This could be part of the reason why many iOS 7 users are holding back. Those users with older devices could also be afraid of performance issues with the newer firmware. The size of the update is also widely noted, with users wishing to
update OTA requiring 4.6 GB of free space
. These space requirements may have prevented a number of iOS 7 users from updating to the latest firmware.