Submitted by Sammy Snyder on
As usual, Apple did not have enough time to discuss every new feature built into iOS 8 during its WWDC keynote on Monday. Some of the new features were quickly displayed on a slide near the end of the presentation, and others are still being discovered every day by users testing the iOS 8 beta. Here's a quick look at some of the smaller but useful improvements coming to your iPhone and iPad this fall.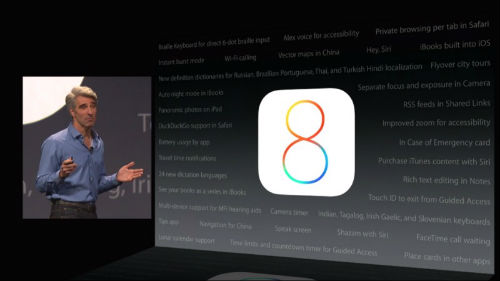 Up until now the Notes app has been fairly simple, but iOS 8 is going to change all that by introducing rich text editing. This will allow you to bold, italicize, or underline your text when using writing a note in the app. iDownloadblog also claims users will be able to add images to their notes, but their source seems a bit dodgy.
Taking photos with your tablet will even more awkward thanks to panorama photos being added to the iPad. Older iPhones will also be getting a quicker burst mode. You can check out all the new iOS 8 Photo app and camera upgrades here.
iBooks will now be included out of the box on all iOS devices and it will automatically switch to night mode when you're reading in low light situations. It is still unknown how this new feature will work.
One of the biggest tools in iOS 8 not mentioned by Apple has to be
battery usage by app
. This will allow you to monitor what apps are sucking the life out of your battery. Very useful!
FaceTime call-waiting and Wi-Fi calling: Your carrier will have to support Wi-Fi calling for this feature to work. So far only T-Mobile has announced it will support it when iOS 8 is released.
More iOS 8 features
- Improved zoom feature
- DuckDuckGo support in Safari
- The ability to hide photos from Moments, Collections and Years