Submitted by Marshall Walker on
Apple released iOS 8.0.2 on Thursday to fix the bugs created by iOS 8.0.1. iPhone 6 and iPhone 6 Plus users complained that they lost their cellular signal and couldn't use Touch ID after downloading iOS 8.0.1 on Wednesday. Apple quickly pulled the update after it was released and announced they were working on a fix. Apple told CNBC that "less than 40,000" users were impacted by the problems caused by iOS 8.0.1.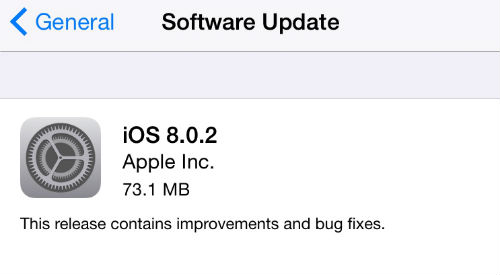 iOS 8.0.1 was originally released to fix an issue with HealthKit and other small problems plaguing iPhone and iPad users. A bug in Apple's HealthKit SDK has delayed developers from releasing HeathKit-enabled apps to the App Store, which was a major selling point of the iPhone 6 and iOS 8. The update also resolved an issue affecting 3rd party keyboards and squashed a bug that prevented uploading photos and videos from Safari. iOS 8.0.2 also fixes these bugs plus adds improvements to the Reachability feature found only on the iPhone 6 and iPhone 6 Plus, and it brings better support for the "Ask To Buy" option in Family Sharing. You can see the full changelog below.
iOS 8.0.2 Changelog
- Fixes an issue in iOS 8.0.1 that impacted cellular network connectivity and Touch ID on iPhone 6 and iPhone 6 Plus
- Fixes a bug so HealthKit apps can now be made available on the App Store
- Addresses an issue where 3rd party keyboards could become deselected when a user enters their passcode
- Fixes an issue that prevented some apps from accessing photos from the Photo Library
Improves the reliability of the Reachability feature on iPhone 6 and iPhone 6 Plus
- Fixes an issue that could cause unexpected cellular data usage when receiving SMS/MMS messages
- Better support of Ask To Buy for Family Sharing for In-App Purchases
- Fixes an issue where ringtones were sometimes not restored from iCloud backups
- Fixes a bug that prevented uploading photos and videos from Safari