If you didn't already preorder the iPhone 6 or 6 Plus, you may be waiting longer than a week if you order it now. Despite record output, Foxconn has been unable to keep up with the enormous demand for Apple's new flagship phone.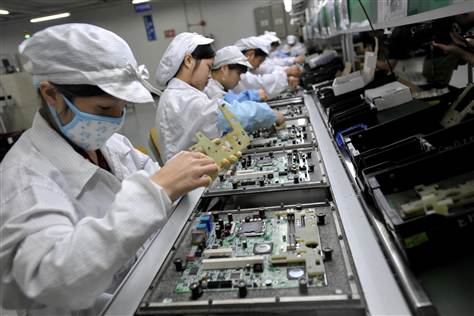 According to The Wall Street Journal, the manufacturing giant's main site in Zhengzhou, China, has over 200,000 workers on around 100 production lines that operate around the clock. According to a source there, "[the site has] been churning out 140,000 iPhone 6 Plus and 400,000 iPhone 6 every day, the highest daily output ever, but the volume is still not enough to meet the preorders."
The challenge lies in producing two different models (the 4.7" standard iPhone 6 and the larger 5.5" iPhone 6 Plus) at the same time. Production is further complicated by the new displays that use in cell technology, which integrates touch sensors into the liquid crystal, making the touchscreen layer unnecessary. While this would seem to simplify production, sources report having to discard 40-50% of the display components for the iPhone 6 Plus due to substandard quality. The smaller display has a much better output rate of 85% (only 15% are discarded).
Foxconn is the sole manufacturer of the iPhone 6 Plus, which also adds pressure. While it produces the majority of the 4.7" units, Taiwanese manufacturer Pegatron shares part of the burden.
Despite the difficulties, Foxconn is still ramping up iPhone 6 production and hiring more workers. Historically, output has improved with time as the production process is refined.
Currently Apple is reporting a 4-6 week wait for the iPhone 6 Plus and a 7-10 day wait for the iPhone 6.