Submitted by Frank Macey on
The iOS keyboard made a star appearance at this year's WWDC, and for good reason. Not only does iOS 8 promise to bake new functionality into the virtual keyboard, but developers can release third-party keyboards for use on any iOS 8 device. Rumors of Swype integration with iOS were floated last year and now it looks like Swype will be just one of many custom keyboards available.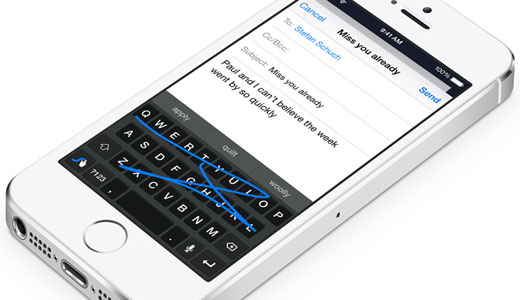 While Swype's patented tech allows for typing with one continuous gesture, examples of possible keyboard tweaks have been available in the jailbreak community for some time. From cosmetic keyboard changes such as Bloard to functional improvements like SwipeSelection the sky's the limit.
When it comes to enhancements built-in to iOS 8, Apple revealed QuickType, which brings shortcuts to words or phrases to buttons above the keyboard. The feature will be available across the entire system, and make smart suggestions based on the app being used, content and intended recipient of the message.
Conversation data used to determine suggested words is never transmitted from the iOS 8 device, to help insure privacy and security. QuickType will support 14 languages when it launches in the fall, with more undoubtedly in the works for a future update. Between QuickType and the availability of third-party keyboards, iOS 8 should vastly improve the speed of typing on iOS virtual keyboards.