Submitted by Anders Batten on
The iOS keyboard tweak SwipeSelection is a must have for all jailbreakers and it just got better! SwipeSelection was originally released to Cydia in 2012 and it quickly became a favorite tool of the jailbreaking community. The tweak makes editing text on your iOS device easier by allowing you to use gestures on your keyboard. For example, you can move the cursor using a one finger drag, or quickly highlight and edit text by holding the shift key and dragging your finger. You'll never be able to use Apple's stock iOS keyboard again after using SwipeSelection. That's how great it is!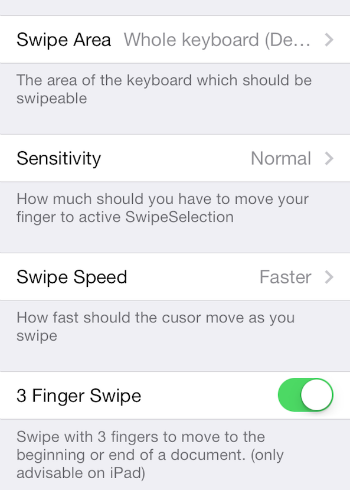 The original version of SwipeSelection is available for free on Cydia, and now there is a pro version available too. SwipeSelection Pro has been rewritten for iOS 7 and adds new features like the ability to adjust the swipe sensitivity, cursor speed and the ability to toggle select features. Another big feature is the ability to disable the tweak by tapping the shift key three times.
SwipeSelection Pro is available on Cydia for $1.99. The original version also now supports iOS 7. Both versions are available in the BigBoss repo and work with all iOS devices running iOS 4 or later.