Submitted by Thomas Estilow on
One of the more useful features coming to iOS 5 in the fall adds a camera button to the iPhone lock screen, speeding up access to the Camera app. Missing a photo because you need to unlock, enter your passcode, find the Camera app and snap the picture can be a drag. If your iPhone is jailbroken, a free tweak called CameraLock simplifies access to the photography app of your choice right now.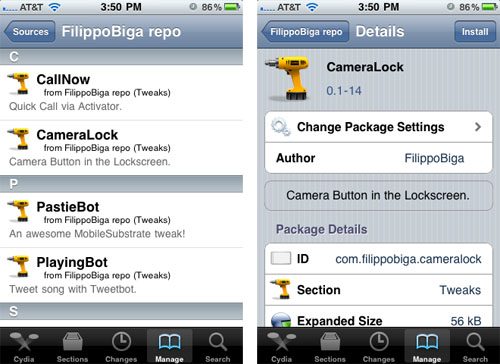 CameraLock has a few adjustable options, including Bypass Passcode and Don't Lock Back. If Bypass Passcode is set to ON, tapping the camera icon from the lock screen will immediately open the Camera app. Don't Lock Back is set to OFF by default, so that when you're finished shooting photos the iPhone automatically returns to the lock screen.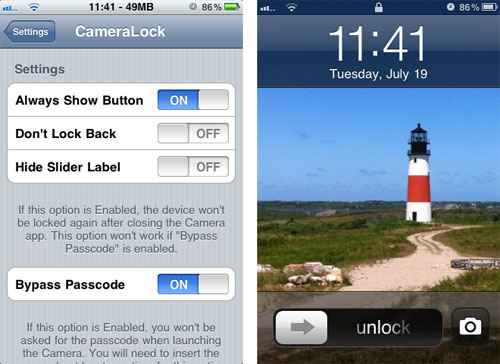 Follow these steps to install the CameraLock tweak on your iPhone:
1. Your iPhone must be
jailbroken
.
2.
Add the repository
http://filippobiga.me/repo to your Cydia sources.
3. In Cydia, select Manage -> Sources -> FilippoBiga repo -> CameraLock
4. Touch the Install button at the upper right corner of the screen, then touch Confirm.
Full settings for CameraLock can be found after installation under Settings -> CameraLock. In addition to controlling the behavior of the lock screen camera button, you can choose from a list of supported photography apps to use by default. If you're using the Apple Camera app, it's possible to choose between still photos and video when launching Camera from the lock screen. The complete list of photography apps currently supported include:
Camera (stock)
Camera+
Hipstamatic
Instagram
QuickPix
Camera Genius
Camera Plust Pro
ProCamera
If the camera access button doesn't appear immediately after installation, reboot may be required. Another thing to try is navigate to Settings -> CameraLock -> Always Show Button -> ON
It remains to be seen exactly what features Apple's official iOS 5 lock screen camera button will support when the final version of new firmware is released to the public. In the meantime, jailbreaking your iPhone brings you the CameraLock tweak for free.