Submitted by Bob Bhatnagar on
Thanks to developer comex JailbreakMe 3.0 has been released and is the simplest, fastest and easiest way to jailbreak your Apple iOS device. Nevertheless, for those who are looking for instructions and would like to preview the process before they go ahead, here is a tutorial.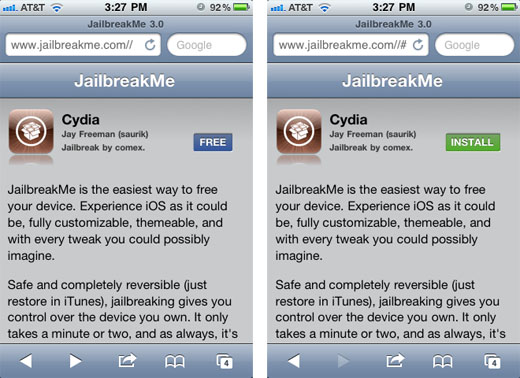 First of all, make sure your device and firmware version are compatible with JailbreakMe 3.0. For almost all devices iOS 4.3.3 is the latest supported operating system. The only exception is the Verizon iPhone 4, where the jailbreak process will only work with firmware 4.2.6 through 4.2.8.
Check the list below for compatibility:
- Original iPad: 4.3 through 4.3.3
- iPad 2: 4.3.3
- iPhone 3GS: 4.3 through 4.3.3
- iPhone 4: 4.3 through 4.3.3
- Verizon iPhone 4: 4.2.6 through 4.2.8
- iPod touch 3g: 4.3, 4.3.2, 4.3.3
- iPod touch 4g: 4.3 through 4.3.3
Follow these steps to jailbreak:
1. Open the Safari web browser on your device and navigate to http://jailbreakme.com
2. Touch the blue FREE button next to Cydia as shown in the photo above.
3. The button will turn green. Now touch the green INSTALL button.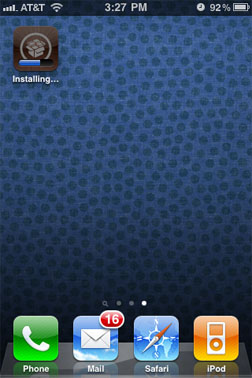 4. The Cydia app store icon will begin to load and install just like a normal application. Wait until the installation is finished.
5. Touch the Cydia icon to run the app for the first time.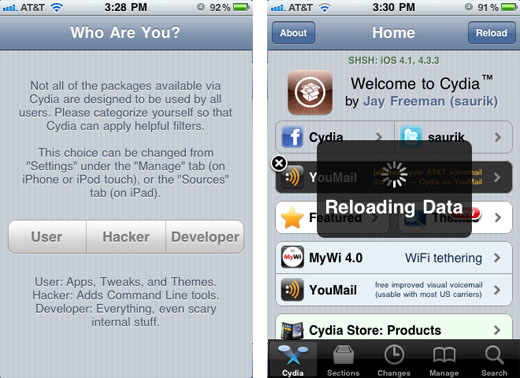 6. Cydia will ask about your user preference. Most users will select User or Hacker. This can always be changed later.
7. Be patient while Cydia loads for the first time. When the process is complete your iPhone is jailbroken and you have access to all of the software packages and tweaks available from independent developers around the globe. That's it!