Submitted by Bob Bhatnagar on
iMessage may make it simpler to communicate between iOS devices and an OS X computer, but there are many file types that can't be transferred using the service as they are unsupported by Apple. For those iPhone users with jailbroken devices, this is no longer a limitation.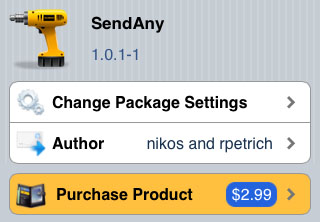 SendAny and ReceiveAny are two complimentary iPhone tweaks that open up the doors of iMessage to any file type you care to send. These files can be sent to and from jailbroken iOS devices or between an IOS device and an OS X computer running iMessage beta. Not only this, but SendAny includes built-in DropBox support to send files directly to online storage.
Both tweaks can be found on the Cydia jailbreak app store in the BigBoss repository. Either navigate to Sections -> Tweaks or use the Search function to fine SendAny or ReceiveAny. ReceiveAny is free, however SendAny will cost you $2.99 to install. Payment can be made via PayPal or Amazon Payments using the Cydia Store purchasing system.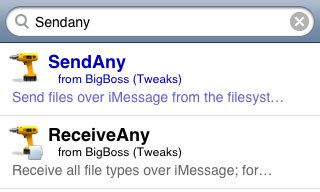 Once installed, a paper clip icon will replace the camera icon above the keyboard on the iMessage screen. After tapping the paper clip, your iPhone will display options including Take Photo or Video, Choose Existing, Send local files, and Dropbox. Selecting Send local files will open a window into the filesystem on your iOS device, much like the OS X Finder.
Multiple files can be selected and there's even an option to compress the files before sending them to another iMessage user account. Files received on the iPhone with ReceiveAny can be opened directly on your mobile device with additional jailbreak software such as iFile. Thanks to developers nikos and rpetrich, iMessage just got much more useful for users with
jailbroken iOS
devices.