Submitted by Frank Macey on
Apple plans to add more functionality to the stock Camera app in iOS 5. One of the features will allow the volume buttons on the side of the iPhone to snap a picture, making it unnecessary to touch the screen. This is much easier and lets the iOS device act more like a standard point-and-shoot camera.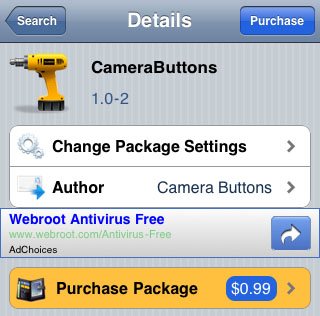 Luckily for those who have jailbroken their iPhones this functionality can be installed right away. A tweak called CameraButtons provides this feature and much more for only 99 cents. To find the app open Cydia and navigate to Sections -> Tweaks -> CameraButtons or find the package using Search.
Paying the one-time $0.99 charge can be completed using Cydia's Store Purchase system. First authenticate with a Google or Facebook account, then send payment via PayPal or Amazon Payments. Aside from being able to use the volume buttons as a camera shutter release, several other settings provide additional options that are useful to anyone taking pictures using an iOS device. FastSnap and SnapTap are also $0.99 each, however these two apps don't have all of the options that CameraButtons provides.
Once installed, CameraButtons will not add an icon to your home screen. To adjust camera buttons navigate to Settings -> CameraButtons -> Enable -> ON. From this screen you can choose which volume button will snap a photo and assign a different button to record video immediately. The Lockscreen Launch option even allows you to select the volume up or down buttons to directly access the Camera app from the lock screen.
Other CameraButton options that can be assigned to a physical button include Camera Mode, Flash Mode, and HDR Mode toggles. Why wait for the iOS 5 release date?