Submitted by Frank Macey on
Why wait for iOS 5 to improve your Mail app when you can get these features now with a jailbroken iPhone? Anyone using a jailbroken iPad or iPod touch can also add these three packages from Cydia to their system for better mail. Each package adds more functionality and customization to the stock Mail application.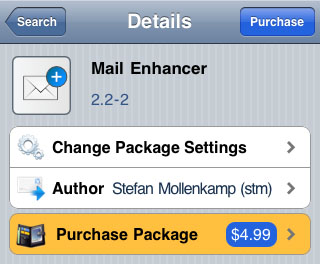 The first package we're going to discuss is Mail Enhancer. Sure it costs $4.99 but it adds an incredible amount of customization to Mail. To find Mail Enhancer use the search function in Cydia or look under Tweaks. The app can be purchased directly on Cydia using Amazon Payments or PayPal.
Once installed, Mail Enhancer can be configured under Settings -> Mail Enhancer. First off you can enable or disable the tweak in its entirety with the first toggle. After this, there are options to set different signatures for each email account. These signatures even support HTML code.
Notification settings provide a variety of options to customize how you are notified of incoming emails and even allow custom sounds including iTunes ringtones. The Mail Enhancer tweak is so detailed it's likely that even iOS 5 won't include all of the options available here!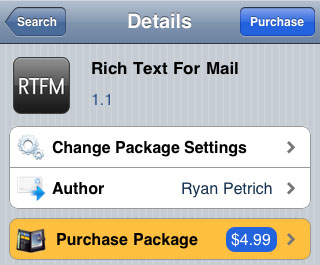 The next package can be found in the System section of Cydia and also costs $4.99. With Rich Text, you can add formatting to emails such as bold text, italics and underlining. Paragraphs can be indented and emails flagged for importance. Rich text support is on its way in iOS 5, but this system package implements the functionality now.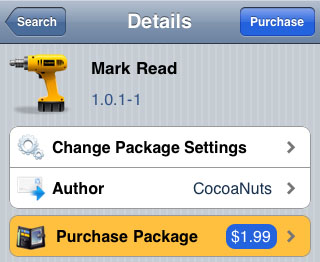 Last but not least we're looking at Mark Read, another Cydia tweak that has a simple function. For $1.99 this package makes it possible to mark several messages read at the same time. For some this doesn't sound too interesting, but if your inbox is constantly flooded with new mail the feature comes in handy. With the tweak installed you can select emails and tap the Edit button, and a Mark All button appears in the upper left corner. Press Mark All to mark these selected emails as read or press Mark All with no emails selected and your entire inbox will be marked read immediately.
iOS 5 might improve upon Mark Read by adding an option to flag emails, however at this time it looks like Apple is not including the option to mark all inbox messages read.