Submitted by Bob Bhatnagar on
The developer of LockInfo has released a new tweak for jailbroken iPhone users. Forecast is a weather-only addition to the lock screen that provides easy access to information from the native iOS weather app. Installing Forecast replaces the lock screen clock with a full weather widget.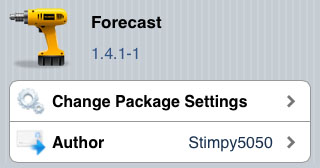 In addition to the time, Forecast displays current temperature, daily high/low temps, and current conditions right on the lock screen. The Forecast tweak brings one of the best parts of LockInfo to users for a fraction of the price at just $0.99.
Forecast is compatible with location based GPS weather and provides a 6-day weather outlook in addition to current conditions with a single swipe. Tap the refresh button to get new data. To change which location's weather is displayed on the lock screen just move it to the top of the list in your Weather app. The tweak also saves battery life by limiting updates to a maximum of once every 15 minutes.
Should the latest weather be unavailable, Forecast will display the latest known data and display an alert icon to let you know it's offline. Download Forecast from the ModMyi repo on Cydia. Navigate to Sections -> Tweaks or use the Search function to find the package. You can purchase software on Cydia using PayPal or Amazon Payments once logged in.