Submitted by Bob Bhatnagar on
Running an app full screen on your iPhone can be great, until you accidentally swipe down from the top of the screen and bring up Notification Center. Interruptions like this can now be prevented thanks to a jailbreak tweak called DisableNC Switch.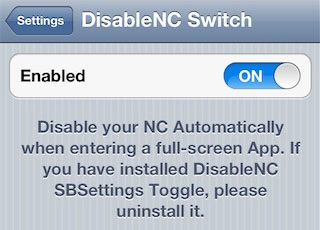 The tweak is simple; once installed it adds a toggle switch under Settings -> DisableNC Switch which will turn off the Notification Center switch when full screen apps are active. Even though the switch will appear, the full Notification Center is prevented from covering up the screen.
This is a great tweak that will add functionality to your jailbroken iOS device. You can find DisableNC Switch on Cydia in the ModMyi repository for free. Just navigate to Sections -> Tweaks -> DisableNC Switch or use the Search function. Once installed, the toggle will appear under Settings and you can turn ON or OFF the Notification Center in full screen mode.