Submitted by Bob Bhatnagar on
Ever notice there's no timer on the iPhone Camera? Setting the iPhone up somewhere so you can run and be in the photo might not be the easiest thing, but it would be nice to know you have the option. Now thanks to the jailbreak tweak CamTime you can use the iPhone camera just like a point-and-shoot with a timer.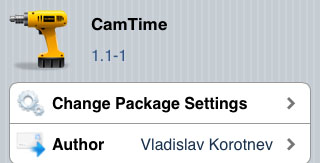 CamTime adds a timer button next to the shutter release, and simulates pressing this button when the time runs out. You can enter the number of seconds you want the timer to run before it snaps the photo. In fact, because it simulates this button you can even set a timer in seconds to delay the start of a video if desired.
Every time you tap the timer button the tweak will ask how many seconds you need before the photo is snapped. The nice thing about this timer button is it always appears anytime the stock iOS photo or video functions are used, even from another application. If you hit the timer button by accident simply tap Cancel to avoid starting a timer. The timer makes a noise every second as it counts down, and even rings louder in the last two seconds.
Of course, your iPhone must be jailbroken to install the tweak. You can find CamTime in Cydia under Sections -> Tweaks or using the Search function. CamTime comes to us from developer Vladislav Korotnev on the BigBoss repo. There's no charge to install the tweak, although donations are appreciated.