Submitted by Bob Bhatnagar on
The latest installment of Absinthe is here, making it possible to jailbreak most devices running iOS 5.1.1, including the new iPad. Jailbreaking with Absinthe 2.0 only takes a few minutes thanks to all of the hard work put in by the Chronic Dev Team. The software is available for both Mac OS X and Windows computers.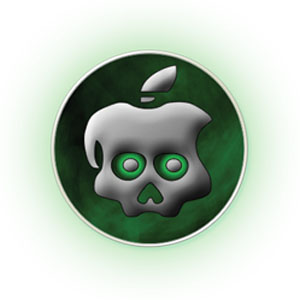 The latest jailbreak solution works with the iPhone 3GS, iPhone 4, iPhone 4S, iPod touch 3rd and 4th generation, original iPad, older iPad 2 models and iPad 3 running iOS 5.1.1. Support for newer iPad 2 models (iPad2,4) is in the works.
Before jailbreaking, make sure you backup your iPhone using iTunes to preserve your data in the event of a problem. Your device must be updated to iOS 5.1.1 before jailbreaking with Absinthe 2.
For instructions on using Absinthe with a Windows computer, click here. Here are instructions on how to jailbreak your iOS 5.1.1 device with Absinthe 2.0 on a Mac:
1.
Download
the latest version of Absinthe 2 directly from the
greenpois0n.com
website.
2. Open the Absinthe archive and run the software. If your computer asks whether or not to run the application click Open.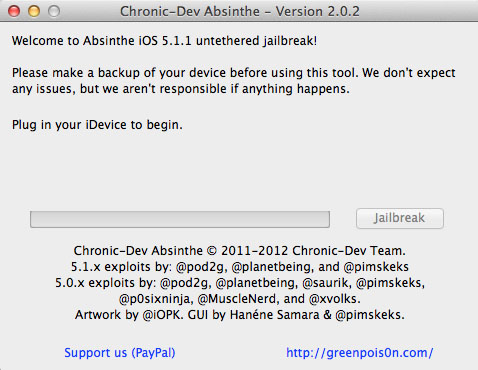 3. With your iOS device displaying the home screen, connect to the computer via USB.
4. Click the Jailbreak button in the Chronic Dev Absinthe application window.
5. The iPhone will say Restore in Progress. Do not touch the iPhone until Absinthe completes!
6. Absinthe will let you know when the process is finished. Unplug your device and you will see the Cydia app icon is now installed.
Your iOS 5.1.1 device is now jailbroken! As always, the jailbreak is distributed freely. For those wishing to donate to Chronic Dev Team, see their website at greenpois0n.com.