Submitted by Chad Shmukler on
The long awaited untethered jailbreak for iOS 4.2.1 is here, albeit in limited fashion. The instructions below pertain to Redsn0w 0.9.7b1, a beta release of the so-called "backup plan" untethered jailbreak. This release is not the final release and, being a beta, requires a bit more effort than the eventual final release should. This jailbreak is also limited to the iPhone 4, iPad and iPod Touch 4G.
The following provides step-by-step instructions on how to jailbreak your iPhone (or other iOS device) using Redsn0w 0.9.7b1.
IMPORTANT: If you require an unlock and not a JAILBREAK ONLY, do not proceed.
Requirements
usbmuxd (which you can download from here)
a jailbroken (tethered) iOS 4.2.1 iPhone 4, iPad, or iPod Touch 4G. Full instructions for completing the tethered iOS 4.2.1 can be found here
the official iOS 4.2b3 firmware file
your SHSH blobs from 4.2b3 saved w/ Cydia (locally saved files aren't supported yet)
Step 1
Get usbmuxd unarchived, and up and running. Pick a directory to unarchive it to then, using Terminal, navigate to the
python-client
subdirectory and start usbmuxd as shown below. Technically, it isn't necessary to start usbmuxd just yet, but there's no reason not to start it and get it out of the way right off the bat.
If you're having trouble reading the commands in the image, that's
- chmod +x tcprelay.py (makes it executable)
- ./tcprelay.py -t 22:2222
Step 2
Connect your iPhone 4, iPad or iPod Touch 4G and launch Redsn0w.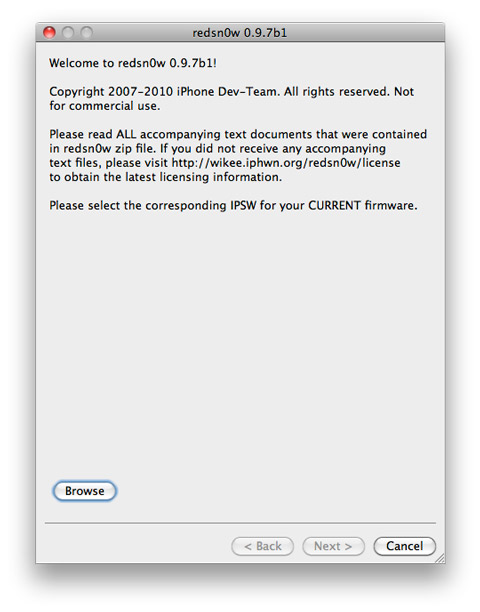 Redsn0w will immediately request that you browse to and select your official iOS 4.2.1 firmware file. Navigate to, select the file, and click "Next".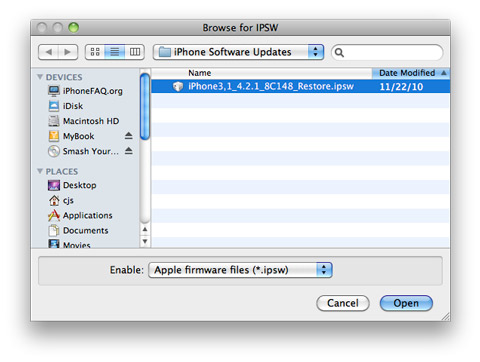 Redsn0w will process the firmware file and inform you when it is ready to proceed.

Step 3
Select the "Jailbreak Monte" option. You can uncheck "Install Cydia" as you're required to begin these instructions with a jailbroken iOS 4.2.1 device running Cydia. Redsn0w will again prompt you to point it to an iOS firmware file, this time for iOS 4.2b3.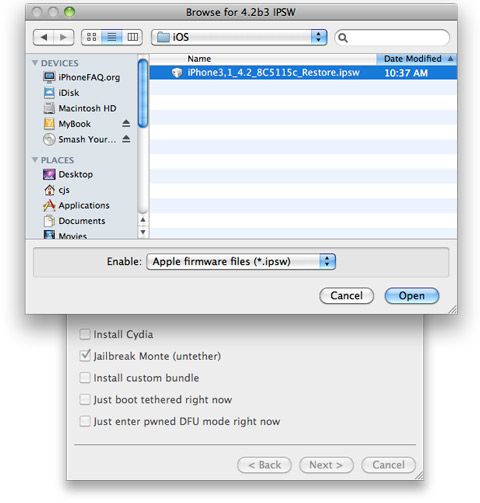 Step 4
Make sure your iPhone, iPad or iPod Touch 4G is OFF and click "Next". Then follow Redsn0w's instructions on how to put your device into DFU mode and sit back and let the process complete.