Submitted by Bob Bhatnagar on
Accessing your iPhone filesystem directly with a command line console can be convenient and makes it possible to run utilities such as OpenSSH without the need to buy separate standalone clients. The MobileTerminal app has been around for some time and provides this functionality to jailbroken iPhone users. Unfortunately, the latest version of MobileTerminal available in Cydia crashes in iOS 4 and iOS 5.
The app is still available and easy to install, without having to manually decompress archives or copy files directly to your iPhone. The easy way to install MobileTerminal in iOS 4 or iOS 5 doesn't even require a computer. Follow these steps directly on your jailbroken iPhone to install a working copy of MobileTerminal:
1. Make sure your iPhone running iOS 4 or iOS 5 is jailbroken with Cydia installed. Find a complete redsn0w jailbreaking tutorial here.
2. Open Cydia and navigate to Sections -> System -> iFile or search for iFile directly under Search.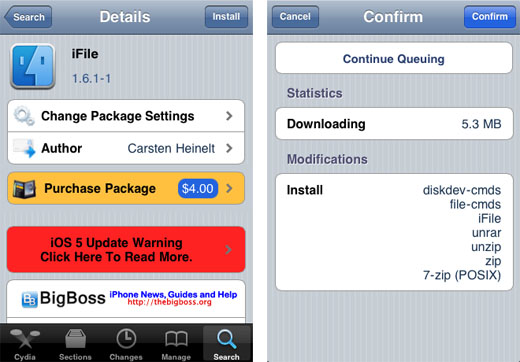 3. Touch the Install button in the upper right hand corner then tap Confirm. iFile will install to your iPhone. iFile is shareware, please support independent developers.
4. Close Cydia then open Safari and navigate to the following URL address:
http://code.google.com/p/mobileterminal
5. On the left hand menu under Featured -> Downloads select the install file:
MobileTerminal_520-1_iphoneos-arm.deb
6. Touch the name of the file (in the green box) to download. Press the Open in "iFile" button.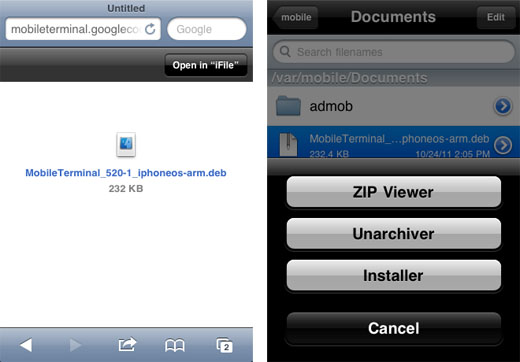 7. The archive will download to iFile. Press the Installer button.
8. iFile will install MobileTerminal. When finished, press Done in the upper right hand corner of the screen.
9. You can delete the install file if you wish by swiping to the right over the file name and tapping Delete.
10. Exit iFile by pressing the Home button and respring or reboot your iPhone. The MobileTerminal icon will appear on the home screen and can be used to access a command line prompt.