Submitted by Pete Sofflaw on
Absinthe co-creator pod2g dropped some disappointing news on the jailbreaking community on Tuesday. The iOS hacker announced he's not working on a jailbreak for iOS 6. Pod2g is mostly responsible for the last untethered jailbreak most jailbreakers are currently using today.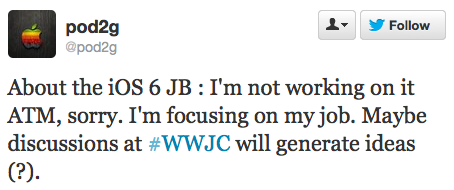 Pod2g's announcement doesn't mean a new jailbreak is not in the works. Another iOS hacker known as Chpwn, tweeted an image of a jailbroken iPhone 5 with Cydia installed over the weekend. This is a good sign that a public iOS 6 jailbreak could be available in a few months.